Proficiency test targeting Acunetix Partners and Licensed Users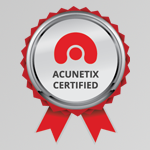 London, UK – June 2016 – Acunetix, leaders in web application security software, have launched the Acunetix User Certification Test, a free programme designed for Partners and Licensed Users who wish to be accredited with Acunetix Certified status. Acunetix Certification will help boost Partners' sales and credibility while Licensed Users will be able to prove their proficiency in the use of Acunetix.
The Acunetix User Test consists of a series of multiple choice questions, which assess candidates' proficiency in the use of Acunetix Web Vulnerability Scanner and its associated technologies such as DeepScan, AcuMonitor and AcuSensor, as well as general questions about web application vulnerabilities and how to interpret scan results.
Boost your sales – Get Acunetix Certified
The free Acunetix Certification program is designed to increase Acunetix Partners' profitability by giving them the resources and knowledge they need to sell Acunetix Web Vulnerability Scanner, and better support existing customers.
Being a certified partner is a significant differentiator over other non-certified partners as certified partners will be able to:
Gain greater customer confidence
Earn more from service revenue
Get listed on the Acunetix website
"Acunetix is a forerunner in website vulnerability scanning. Acunetix Partners already have the tools to increase their revenue and in addition to becoming certified they will have an extra advantage over other partners. Few vendors offer their partners free certification and resources and this is proof that we are here to give our partners everything they need to make more profit and gain more knowledge," announced Chris Martin, General Manager at Acunetix.
We encourage all Acunetix Partners to take the certification test, learn all the new features and key benefits of Acunetix WVS and become Acunetix Certified. To do so, Partners must sign into their Acunetix Partner Program Portal and take the Acunetix User Test. Upon passing the certification, the partner will be awarded with a certificate and an Acunetix Certified logo for use on their website and office stationery to promote their Acunetix Certified Partner status. For more information visit www.acunetix.com/acunetix-academy/
Certification for Licensed Users
Certification confirms that the candidate has the necessary knowledge and skills required to set up, configure, operate and troubleshoot Acunetix Web Vulnerability Scanner to automatically scan a website for vulnerabilities, and interpret the results to further research and take action on vulnerabilities.
In order to sit for the online test, licensed users must simply log into the Acunetix Portal with their login credentials. Upon successfully passing the test, they will be awarded with an Acunetix User certificate.
Preparing for the test
Candidates may prepare for the test by viewing the Acunetix videos, and by reading up on Acunetix features and web application vulnerability detection on our blog. More information about the Acunetix User Certification Test can be found here.
About Acunetix Web Vulnerability Scanner
User-friendly and competitively priced, Acunetix Vulnerability Scanner fully interprets and scans websites, including those developed in HTML5, JavaScript and AJAX-heavy websites. Acunetix detects over 3000 types of web application vulnerabilities and is the industry leader in detecting the largest variety of SQL Injection and XSS vulnerabilities, including Out-of-band SQL Injection and DOM-based XSS. Acunetix beats competing products in many areas; including speed, limiting false positives and the ability to access restricted areas with ease. Acunetix also has the most advanced detection of WordPress vulnerabilities and a wide range of management and regulatory reports.
Get the latest content on web security
in your inbox each week.