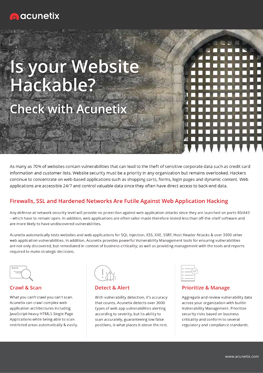 Is Your Website Hackable?
As many as 70% of websites contain vulnerabilities which could be exploited by hackers, leading to theft of sensitive corporate data such as credit card information and customer lists.
Acunetix has pioneered web application security scanning: Our engineers focused on web security as early as 1997 and developed an engineering lead in website analysis and vulnerability detection.
Find out more on how you can protect your most valuable online assets
Download a copy of our brochure to find out more about the technology that makes Acunetix an essential tool in your web security arsenal.