By default, Acunetix (on premise) will install and configure itself to run on localhost, port 3443. This configuration is suitable if you are using Acunetix on your own, however, you will need to adjust this default configuration if you intend on using Acunetix organization-wide.
Fortunately, it's easy to configure Acunetix to be accessible from another IP address or Fully Qualified Domain Name (FQDN), as well as from another port. Furthermore, we'll also look into how to re-generate our TLS/SSL certificates, so we won't get any errors in the browser.
Changing the default port and IP address
We'll start out by changing the default Acunetix port from 3443, to 443 (default HTTPS port) for convenience, so a user will not need to remember the port number.
We can also change the IP address Acunetix binds to. By default Acunetix is set to bind to all interfaces (0.0.0.0), however, you can customize this to fit your requirements.
To do this, you'll need to open C:\ProgramData\Acunetix 11\settings.ini in a text editor of your choice and edit the server.address and server.port keys.
; IP address on which the Acunetix Server will bind to
server.address=0.0.0.0
; Port on which the Acunetix Server will listen
server.port=443
Setting-up a Firewall Rule
We will also need to set-up a Windows Firewall Inbound Rule to allow HTTP traffic in on the port we chose (443 in this case). For additional information on Windows Firewall Rules, refer to Microsoft's documentation.

Regenerating TLS/SSL Certificates
Since we are no longer going to be accessing Acunetix from localhost, the final step is now to re-generate the server certificate Acunetix will serve to the user when visiting the web console. Acunetix has a simple tool in it's installation directory that makes this easy.
Open a PowerShell or Command Prompt as Administrator and run the following command.
Tip —  If you are using PowerShell prefix the following command with an & , replace red text with the appropriate values.
"C:\Program Files (x86)\Acunetix <version>\<build>\certgen.exe" /d "C:\ProgramData\Acunetix 11\certs" /c acunetix.local
Restarting the Acunetix Service
After making this change, save the file. We'll now need to restart the Acunetix Windows Service.
Warning – Restarting the Acuentix service will interrupt any currently running scans. Make sure no scans are running, or stop any running scans before restarting the Acunetix service.
To restart the Acunetix Windows Service, open the Task Manager, navigate to the Services tab, right-click the Acunetix Service and click Restart.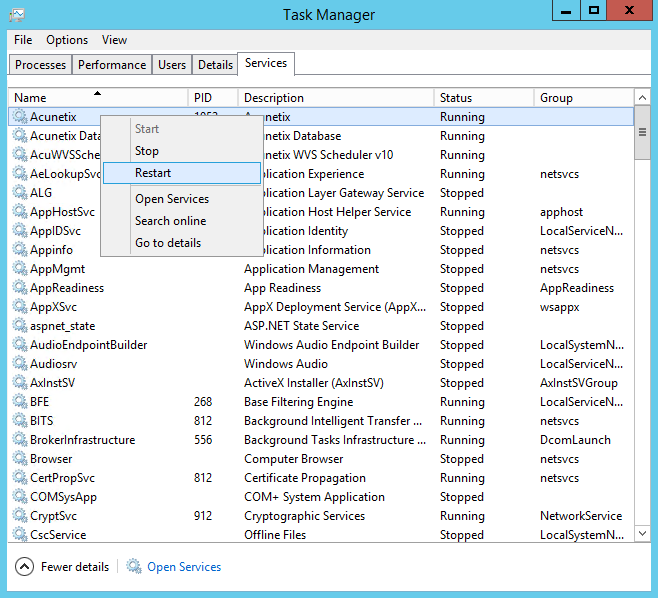 Provided the Acunetix certificate authority certificate is installed on the computer accessing Acunetix, that's all there is to it. You can now access Acunetix with the newly configured IP address or FQDN.