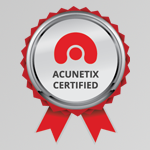 The Acunetix Academy has launched an Acunetix User Certification Test – a free program designed for Partners and Licensed Users who wish to be accredited with Acunetix Certified Status. Acunetix Certification will help boost Partners' sales and credibility. Both Partners and Licensed Users will be able to prove their proficiency in the use of Acunetix, its associated technologies, as well as a working knowledge of web application security principles required for proficient set-up, configuration and operation of Acunetix and the interpretation of security alerts raised.
Certification for Partners
The Acunetix Certification program is designed to increase Acunetix Partners' profitability by giving them the resources and knowledge they need to sell Acunetix Web Vulnerability Scanner, and better support existing customers.
Being a certified partner is a significant differentiator over other non-certified partners as certified partners will be better able to:
Win customer confidence
Earn more from service revenue
Get listed on the Acunetix website (

subject to Acunetix Partner Program guidelines)
We encourage all Acunetix Partners to take the certification test, learn all the new features and key benefits of Acunetix and become Acunetix Certified. To do so, Partners must sign into their Acunetix Partner Program Portal and take the Acunetix User Test. Upon passing the certification, the partner will be awarded with a certificate and an Acunetix Certified logo for use on their website and office stationery to promote their Acunetix Certified Partner status. For more information or to request that additional candidates take the test, contact us on academy@acunetix.com quoting your Acunetix Partner Program Member ID, including candidates' full names, corporate email addresses and list of current ICT certifications.
Certification for Licensed Users
Certification confirms that the candidate has the necessary knowledge and skills required to set up, configure, operate and troubleshoot Acunetix Web Vulnerability Scanner to automatically scan a website for vulnerabilities, and interpret the results to further research and take action on vulnerabilities.
In order to sit for the online test, licensed users must simply log into the Acunetix Portal with their login credentials. Upon successfully passing the test, they will be awarded with an Acunetix User certificate.
About the Test
The Acunetix User Certification Test is an online test consisting of 20 multiple choice questions. The test is an open book test, meaning that the candidates can access the software, the user manual, and notes as well as other resources available on the internet during the exam. Keeping in mind the time allocated for the exam, it is recommended that candidates are well prepared for the exam, so as not to spend a lot of time looking up answers to the exam questions. The pass mark is 80% without negative marking, meaning that candidates will not be penalized for incorrect answers. There will be a right for a re-sit after 15 days of the original exam date. Acunetix Assessors can give tips on weak points before a re-sit.
An outline of the topics candidates are expected to be familiar with for the successful completion of the test are available here.
Preparing for the test
The teaching material is essentially the software itself and the documentation but it is also important for the candidate to devote time to self-education. Candidates may prepare for the test by viewing the Acunetix videos, attending a webinar and by reading up on Acunetix features and web application vulnerability detection on our blog. Candidates may also participate in our bi-weekly webinars by sending a request for participation by email to academy@acunetix.com.