Improve Your Web Application Security with the Acunetix Vulnerability Scanner
Acunetix is not just a web vulnerability scanner. It is a complete web application security testing solution that can be used both standalone and as part of complex environments. It offers built-in vulnerability assessment and vulnerability management, as well as many options for integration with market-leading software development tools. By making Acunetix one of your security measures, you can significantly increase your cybersecurity stance and eliminate many security risks at a low resource cost.
Automate and Integrate Your Vulnerability Management
To save resources, ease remediation, and avoid late patching, enterprises often aim to include web vulnerability tests as part of their SecDevOps processes. Acunetix is one of the best DAST tools for such a purpose due to its efficiency in both physical and virtual environments.
Acunetix integrations

 are designed to be easy. For example, you can integrate Acunetix scans in your 

CI/CD

 pipeline with tools such as 

Jenkins

 in just a few steps.

For effective vulnerability management, you can also use third-party 

issue trackers

 such as Jira, GitLab, 

GitHub

, TFS, Bugzilla, and Mantis. For some issue trackers, Acunetix also offers two-way integration, where the issue tracker may automatically trigger additional scans depending on the issue state.

Acunetix offers its own 

API

 that you can use to connect to other security controls and software developed by third parties or in-house. In the case of enterprise customers, Acunetix technical experts will help you integrate the tool within atypical environments.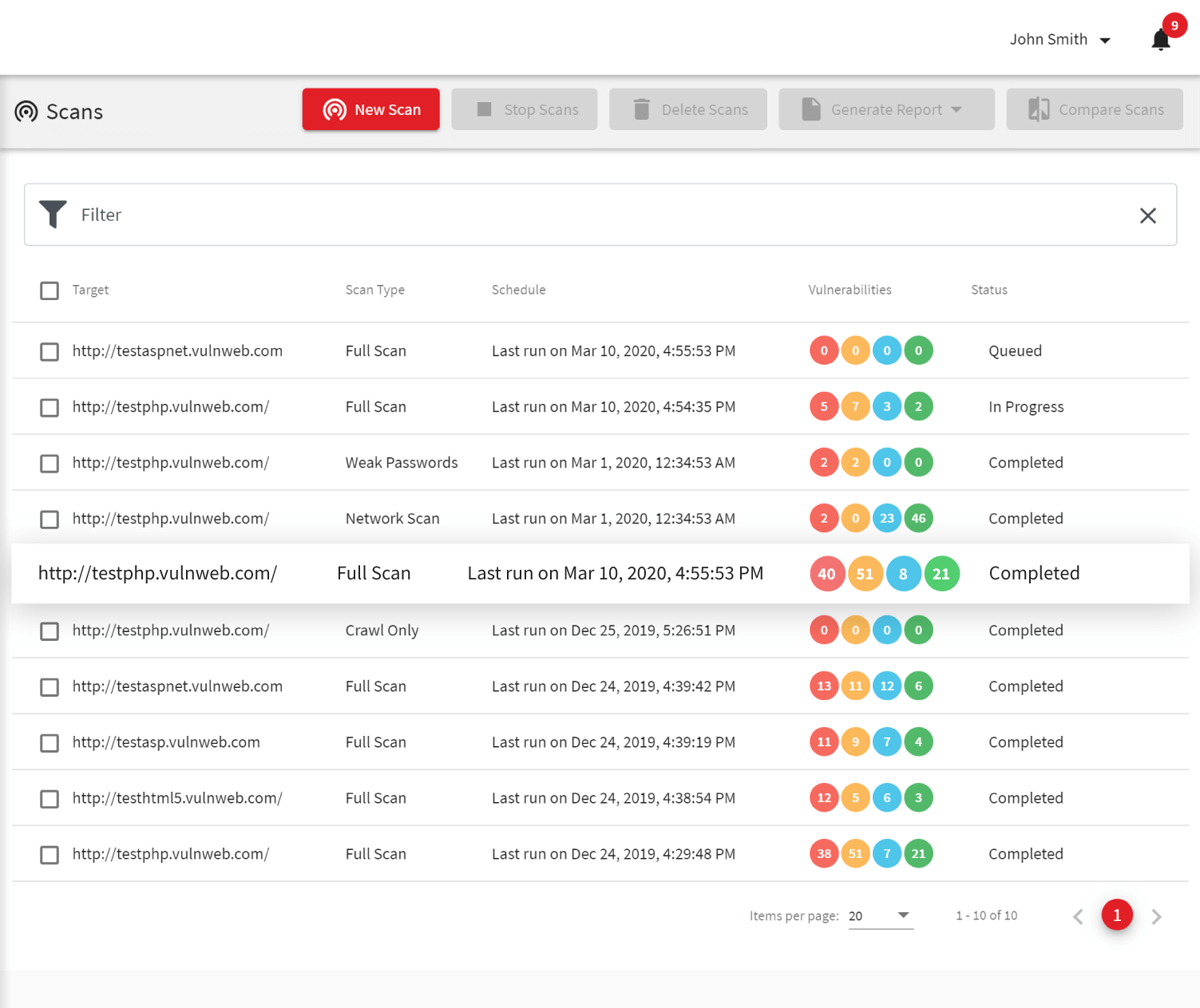 Trust the Most Mature and Fastest Vulnerability Scanning Tool
Acunetix is the first web security scanner on the market that is constantly being improved since 2005. It is a highly mature, specialized tool developed by web security testing experts. Such specialization made it possible to build a solution that is more effective than many bundled tools.
The Acunetix vulnerability scanning engine is written in C++, making it one of the 

fastest web security tools

 

on the market

. This is especially important when scanning complex web applications that use a lot of JavaScript code. Acunetix also uses a unique scanning algorithm – SmartScan, with which you can often find 80% vulnerabilities in the first 20% of the scan.

The speed goes in line with very high vulnerability discovery effectiveness. Acunetix is also known for its very 

low false-positive

 rate, which helps you save resources during further 

penetration testing

 and lets your analysts focus on new vulnerabilities. Acunetix also provides proof of exploit for many vulnerabilities.

To increase scanning efficiency, you can use 

multiple

 scanning engines deployed locally. Engines can work both with the Acunetix on-premises and cloud version.
Get Added Value Including Network Security
Acunetix is available in versions suited to different customer needs. It can be deployed locally on Linux, macOS, and Microsoft Windows operating systems. You can also use it as a cloud product to save your local resources.
In addition to web application vulnerabilities, such as 

SQL Injections

 and 

Cross-site Scripting (XSS)

, Acunetix helps you discover 

other

 security threats. This includes web server configuration issues or misconfigurations, unprotected assets, 

malware

, and other security threats listed in 

OWASP Top 10

.

To protect your key assets, you can use the unique 

AcuSensor

 

IAST

 technology for PHP, Java, or .NET. This technology helps you remediate by making it easier to pinpoint the cause of the security hole.

Acunetix is integrated with the OpenVAS open-source tool. This 

network security

 

scanner

 helps you scan your IP address ranges to discover open ports and other security vulnerabilities specific to network devices. You can handle your web and network vulnerabilities together using a single dashboard.
Frequently asked questions
Recommended Reading
Learn more about prominent vulnerabilities, keep up with recent product updates, and catch the latest news from Acunetix.


"We use Acunetix as part of our Security in the SDLC and to test code in DEV and SIT before being promoted to Production."
Kurt Zanzi, Xerox CA-MMIS Information Securtiy Office, Xerox