A professional vulnerability scanner not only finds known vulnerabilities in web applications. To help attain full web application security, it must also assess the security risks and help you manage vulnerabilities. Acunetix is a professional tool for complete web security coverage. Automatic assessment of security vulnerabilities is part of its core vulnerability analysis functionality.
Malware protection for web servers is not enough to ensure complete IT security. Protect your sensitive data from black hat hackers by securing your web applications with Acunetix. The Acunetix cyber-security solution is available both on-premise for Microsoft Windows and Linux operating systems and as an online service.
Leading-Edge Vulnerability Scanning Tool
Today, web applications are often very complex. That makes it difficult for a security tool to find all possible entry points. Acunetix uses leading-edge technology to crawl your entire application. Once the web application is mapped, the tool performs comprehensive security testing.
The

 

DeepScan technology lets you analyze even the most complex, dynamic websites that use advanced HTML5 and JavaScript.
Security issues and misconfigurations are found with blazing speed and exceptional precision. The Acunetix scan engine has one of the lowest false-positive rates on the market. It also discovers all kinds of vulnerabilities featured in the

 

OWASP Top 10.
In addition to web tests, Acunetix Premium also performs network vulnerability tests with the help of the integrated OpenVAS open-source tool. Results of both types of tests (web security and network security) are presented together.
Automatic Vulnerability Assessment
When a vulnerability scanner finds a web application vulnerability, it's not enough that it identifies it, for example, as an SQL Injection or Cross-site Scripting (XSS). To assess the potential impact of the security hole, more information is needed. Except for providing information, a professional tool must also suggest the potential security threat of the vulnerability, its impact on your business, and the urgency with which security measures must be applied.
Acunetix classifies known vulnerabilities using world-renowned classification schemes as a reference, for example, the Common Weakness Enumeration (CWE).
It provides as much information as possible about the vulnerability including additional links. This facilitates fixing and patching and is also helpful if additional penetration testing is required.
Vulnerabilities are classified into four severity levels so that you immediately know how urgently they should be fixed.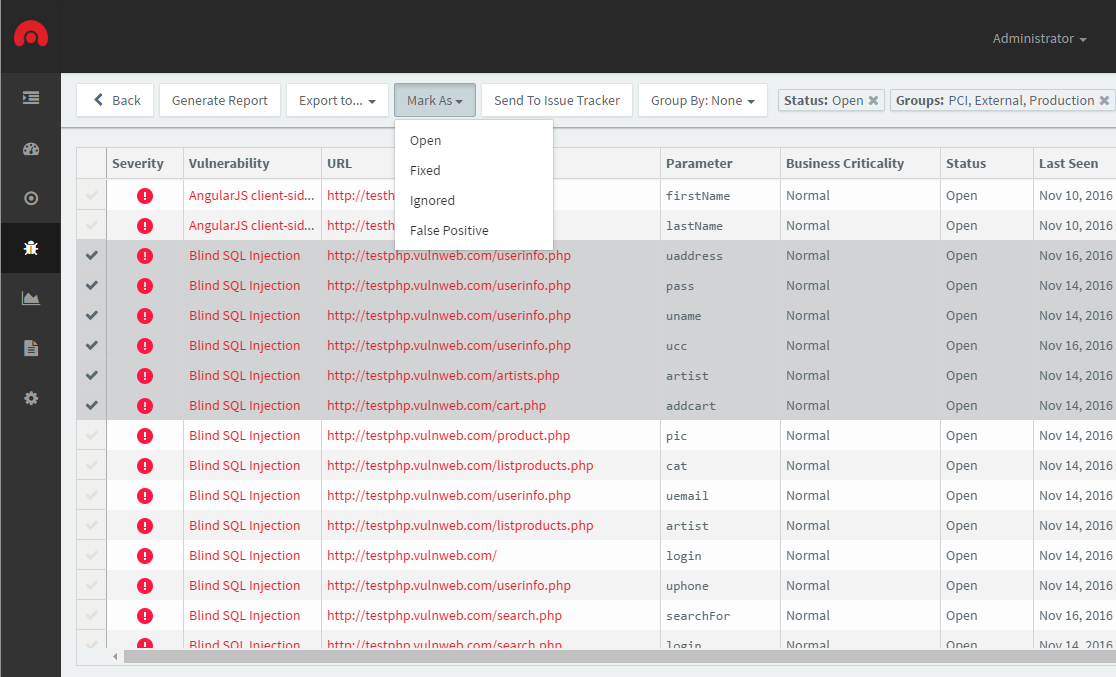 Vulnerability Management Solution
Discovering and assessing vulnerabilities is not enough for a business. A professional set of tools must include vulnerability management functionality as well. Acunetix has a lot to offer in this respect, too.
You can integrate Acunetix with your favorite issue tracker. This way, when a new vulnerability is found, an issue is created. When a vulnerability reappears, it is also tracked to its initial appearance.
You can also integrate Acunetix within your software development lifecycle (SDLC) using CI/CD tool integration. This way, the web applications that you build from scratch are protected as early as possible.
Acunetix is the tool of choice for risk management and security compliance. The reporting engine includes reports for PCI DSS and HIPAA as well as many reports for developers and managers.
---
Acunetix is a key point in our application's security strategy, it's integrated with the QA process, allowing us a cost effective way of detecting flaws that can be solved early within the development life cycle. Its toolkit also facilitates performing of manual tests. After trying many others, we can say that it is the fastest one and has the best relationship between findings and false positives.
---