Vulnerability Management (VM) is the ongoing effort of discovering, measuring and remediating vulnerabilities. Organizations use vulnerability management to avert threats posed by the exploitation of applications and network infrastructure. Acunetix bakes advanced vulnerability management features right-into its core, making it easy to kick-start your vulnerability management program, as well as integrate the scanner's results into other tools and platforms.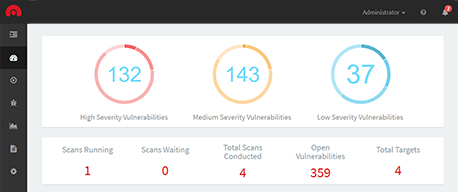 Prioritize risks based on data through a single, consolidated view
Your Vulnerability Management Program in One Consolidated View
It takes teamwork and collaboration to build and maintain a great security program. The Acunetix multi-user, multi-role features allow your Team to be flexible and productive while getting access only to resources they need. Vulnerability Management features allow your Team to easily maintain an integrated view of your security posture throughout your application portfolio by storing everything pertaining to your application security program into a single, central location.
Acunetix removes the need for managing your application security program in multiple PDFs, spreadsheets and other silos of information, and instead, allows you to continuously and automatically secure your application portfolio while managing risk exposure from one consolidated view.
Track Issues, not PDFs
Development Teams manage their work-load in Issue Trackers to fix bugs, track the progress of new features and manage deadlines. Going to developers with a "300-page PDF" full of security issues that need attention is counterproductive and creates a communication barrier.
Acunetix integrates with Atlassian JIRA, GitHub and Microsoft Team Foundation Server (TFS) to bring vulnerabilities found by Acunetix into the hands of developers, while still providing management with the historical data, trending and prioritization tools they need in order to ask questions and make strategic decisions.
Integrating security issues into the software development life-cycle is key to the success of any vulnerability management program since it reduces time and effort to remediate issues by keeping everything developers need to do within the same set of tools.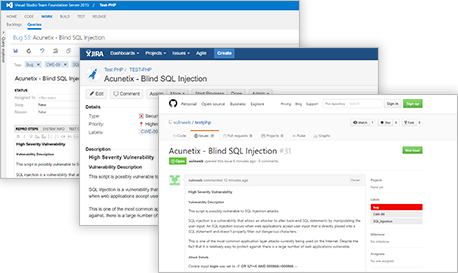 Advanced Management and Compliance Reporting
Acunetix allows you to easily generate a wide variety of detailed technical, management and compliance reports such as PCI DSS, OWASP Top 10, ISO 27001 and HIPAA.
These reports allow you to share security findings internally with management and with regulatory bodies. Reports can focus either on a single Scan, on a specific Target or even an arbitrary group of Scans or Targets.
---
We use it to scan new application launches, and use it yearly to audit new development. It has allowed us to catch a vulnerability in a piece of software from a vendor.
---
Acunetix is available on premise and online. Choose your trial.