Acunetix reveals latest statistics based on one year of conducting web application scans
Kirkland, Washington – February 12, 2007 – Businesses and non-commercial entities have much to consider when it comes to securing their web applications and the data they keep on customers and patrons. Acunetix, a leading vendor of web application security solutions, today revealed that on average 70% of websites are at serious and immediate risk of being hacked.
Since January 2006, Acunetix has been offering a free automated web scan for qualifying websites. Out of a total of 10,000 applications, Acunetix has scanned 3,200 sites belonging to either businesses or non-commercial entities.
Alarming results
70% of the websites scanned were found to contain high or medium vulnerabilities. There is an extremely high probability of these vulnerabilities being discovered and manipulated by hackers to steal the sensitive data these organizations store.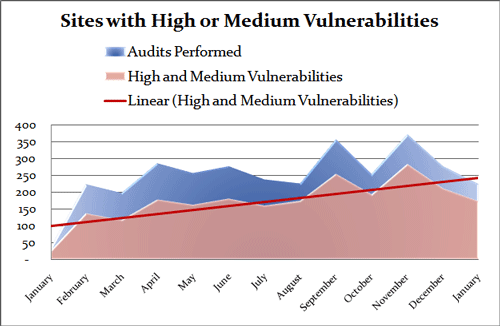 On average 91% of these websites, contained some form of website vulnerability, ranging from the more serious such as SQL Injection and Cross Site Scripting to more minor ones such as local path disclosure or directory listing.
Approximately 66 vulnerabilities per website were found for a total of 210,000 vulnerabilities over the scanned population.
50% of the websites with instances of high vulnerabilities were susceptible to SQL Injection while 42% of these websites were prone to Cross Site Scripting. Other serious vulnerabilities include Blind SQL Injection, Cross Site Scripting, CRLF Injection and HTTP response splitting, as well as script source code disclosure.
"The results show clearly that the problem of unsafe web applications is being ignored completely," stated Kevin J Vella, VP Sales and Operations of Acunetix. "These statistics should compel organizations to take a serious look at their security infrastructure – the recent hacks into TJX, UCLA and the Dolphin Stadium are proof enough that the problem is very real and looks like it is here to stay. Companies, governments, and universities are bound by law to protect our data. Yet web application security is, at best, overlooked as a fad. Without sounding apocalyptic, I believe the 70% figure should send tremors not just ripples in the market."
About Acunetix Web Vulnerability Scanner
Acunetix Web Vulnerability Scanner ensures website security by automatically checking for SQL injection, Cross site scripting and other vulnerabilities. It checks password strength on authentication pages and automatically audits shopping carts, forms, dynamic content and other web applications. As the scan is being completed, the software produces detailed reports that pinpoint where vulnerabilities exist.
About Acunetix
Acunetix was founded to combat the alarming rise in web attacks. Its flagship product, Acunetix Web Vulnerability Scanner, is the result of several years of development by a team of highly experienced security developers. Acunetix is a privately held company with headquarters based in Europe (Malta), a US office in Seattle, Washington and an office in London, UK. For more information about Acunetix, visit: https://www.acunetix.com.
Get the latest content on web security
in your inbox each week.