If you are beginning to build your suite of security tools, or you are struggling to get the most out of website security tools like Sitelock, here's why you should consider Acunetix.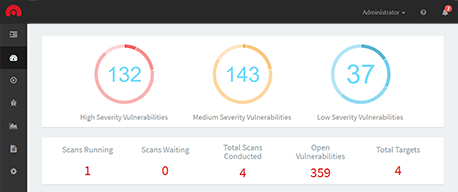 Navigating a Crowded Website Security Market
You may have become familiar with Sitelock through a hosting provider such as Hostgator. Sitelock was originally designed as a website malware removal service, using FTP or Secure FTP credentials to scan the files in your web hosting account to identify malware. From that base, it has begun to add other security services including a web application firewall, content delivery network, and DDoS protection.
However, website security is a multifaceted process. Sitelock's security solution, as well as those provided by Sitelock competitors such as Sucuri, Incapsula, Cloudflare, and GoDaddy, do not provide a best-of-breed web application vulnerability scanner. Acunetix does.
Proactive, Flexible Web Application Security Testing
You need more than a reactive solution tacked onto your hosting account. You need a proactive solution that allows you to identify vulnerabilities and fix them before attackers cause damage. If your web application has issues such as SQL Injection, Cross-site Scripting, Cross-site Request Forgery or other security flaws, you need to identify and fix them before attackers find them. And, as researchers find new vulnerabilities or you add new web applications, you need to be able to continue scanning and remediating. Your business's data and its reputation are worth it.
Unlike a Sitelock plan purchased through your web hosting service provider, you can take complete control of your web application security with Acunetix. Acunetix offers its web vulnerability scanner in multiple versions, including a Windows version, a Linux version, and a cloud version (Acunetix Online). Whether you run your web applications on a shared hosting platform, a cloud provider, or your own physical infrastructure, you'll find a version that works for you.
Industry-Leading Accuracy and Speed
Acunetix gives you both the accuracy and speed you need from a web application security scanner. No matter what technologies your business depends on, Acunetix can accurately crawl each web application, identify user input fields, and give you a comprehensive view of its security flaws with minimal false positives. Whether your applications are based on an open source CMS like WordPress, a commercial off-the-shelf framework, or custom code developed for your business, Acunetix works. Acunetix also offers the DeepScan engine, ensuring best-in-class scanning of modern JavaScript-based Single Page Applications.
In addition, Acunetix is the only scanner with AcuSensor and AcuMonitor, two tools that move beyond traditional black-box scanning. AcuSensor gives you server-side visibility on applications based on PHP, .NET, and Java, which leads to even more comprehensive and accurate scan results. And, AcuMonitor allows you to detect vulnerabilities that cannot be detected during the course of a web application scan, including XML External Entities (XXE), Blind XSS, and Server-Side Request Forgery (SSRF). With AcuMonitor, when the web application (or even a different web application that uses the same datastore) triggers the vulnerability, the application calls back to Acunetix, and the scanner informs you of the detected vulnerability. With AcuMonitor, you can detect more exploitable vulnerabilities, even if they cannot be detected during the time frame of a traditional black box scan.
---
We use Acunetix as part of our Security in the SDLC and to test code in DEV and SIT before being promoted to Production.
---